Ontario County Fair announces 2019 Fair Queen
The Ontario County Fair is proud to announce that Morgan Smithling has been selected as the 2019 Fair Queen. Morgan is a resident of Stanley and recent graduate of Marcus Whitman High School, where she has been recognized for her active participation in FFA and Agricultural Studies. Morgan will attend SUNY Cobleskill in the fall to study Agriculture Business Management. She is a 3rd generation dairy competitor, who has shown at the Ontario County Fair her entire life. "Showing dairy cows is my get away time," says Morgan. As for her role as fair queen, she hopes to share with others how great the Ontario County Fair is, and to connect people with all of the activities and opportunities available. 2018 Fair Queen, Jamiee Frederick, presented Morgan with her crown.
George A. Payne Fund & Apprenticeship Program announces first ever winners!
Yes, winners. The newly established George A. Payne Fund & Apprenticeship Program announced that TWO local youth will be awarded the opportunity to work with Mr. Payne at the 2019 Ontario County Fair. Coby Reals, of Clifton Springs, will serve as the 2019 George A. Payne Apprentice and Avah Gladle, of Stanley, will serve as the 2019 George A. Payne Assistant.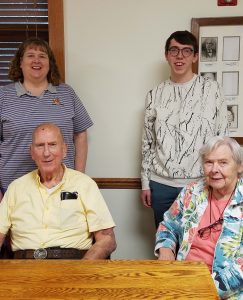 Coby attends Midlakes, where he will enter 12th grade this fall. Coby is an active participant in both his school and larger community. He enjoys planning events and volunteering, and especially enjoys helping with the Sauerkraut Festival in his hometown of Clifton Springs. Coby hopes that his role as Mr. Payne's Apprentice will help him grow his management skills and learn how to run larger festivals.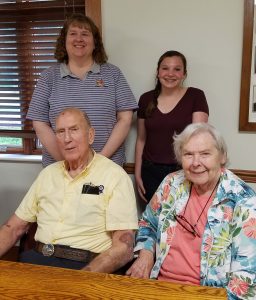 Avah attends Marcus Whitman and has just completed 10th grade. Avah is a hard worker with a "can-do" attitude. The first year she attended the fair, she had just a few entries, but over the years, Avah has challenged herself to learn and grow. She now cares for rabbits, turkeys, sheep, and recently earned enough money to purchase her first cow. Avah is active in the FFA and 4-H Club. She has attended trainings at several area colleges and participated in the 2018 New York State Fair. Avah hopes that her role as Mr. Payne's Assistant will help her learn to run a fair from start to finish.
Congratulations Coby & Avah!
The New York State Association of Agricultural Fairs and New York State Showpeople's Association 2019 Scholarship
Thank you to all those who submitted applications! The Ontario County Fair is proud to have so many active youth members in our community. This year OCF had THREE applications selected by our district, which will now move to the State Association for consideration.
Carriage Barn Event Center Progress
Celebrating 176 years:
In 2018 the Ontario County Fair Board was proud to be able to celebrate our 176th Anniversary. I believe it is a testament to the perseverance of all the members involved throughout our past. I think it's great that what was the main objective of the fair in its beginnings is still a large part of what we do now: To provide a venue where people can exhibit agricultural products of all types and educate the public and foster the development of our youth-after all our motto is "Cultivating the Next Generation".
– Casey Kunes, President
Mission Statement:
Our mission is to provide a leading venue for showcasing Ontario County Agriculture, heritage and businesses that a "#1 agricultural county to live in" has to offer.  Ontario County Fair will cultivate the next generation by providing programs that promote positive youth development and community education. Foster and grow our connection with Ontario County products along with offering wholesome family entertainment.