2020 Ontario County Fair Canceled do to Covid-19
The 177th annual Ontario County Fair that was scheduled for July 21-25, 2020 is now canceled due to COVID-19 safety concerns.
​"After much research and discussion, the Ontario County Agricultural Society Board of Directors met and concluded that "having the Ontario County Fair in 2020 is not in the best interest for our participants, volunteers and patrons" according to the Fair Board President Casey Kunes. "
"The decision is an emotional one as the annual tradition brings so much to the community and all involved and especially hard when we consider our youth that prepare all year long and look forward to fair week. However, keeping everyone healthy and safe is the number one priority" stated Kunes.
​Kunes also stated that "the re-opening of fairs and festivals fall within New York's Phase IV. A decision from New York State to grant the approvals required to allow the Fair to move forward with the Fair is not likely to arrive until mid-July and that assumes there were no further delays in the advancement of the Phases required to open an event which includes mass gatherings.
​Safety requirements and preparations to the buildings and grounds, limiting the number of patrons in the grandstand and entertainment areas as required to maintain the current six feet social distancing rules were also taken into consideration when making this very difficult decision."
​The Ontario County Fair averages 15,000 attendees annually and is run solely by volunteers. There are many persons, farmers, vendors and organizations who also need to plan their lives for an "uncertain" event otherwise scheduled 3 months in the future; certainty and fairness is also a requirement for this difficult decision.
"The Fair, and all that it means to us, and to what it has meant to so many organizations, businesses and patrons has to be considered, but we will be back in 2021 bigger and better than ever. We have a special community with tremendous support and love for all that the Fair represents, a true testament to our mission Cultivating the Next Generation " Kunes stated.
The 177th Fair is now scheduled for July 27 to July 31, 2021.
George A. Payne Fund & Apprenticeship Program announces first ever winners!
Yes, winners. The newly established George A. Payne Fund & Apprenticeship Program announced that TWO local youth will be awarded the opportunity to work with Mr. Payne at the 2019 Ontario County Fair. Coby Reals, of Clifton Springs, will serve as the 2019 George A. Payne Apprentice and Avah Gladle, of Stanley, will serve as the 2019 George A. Payne Assistant.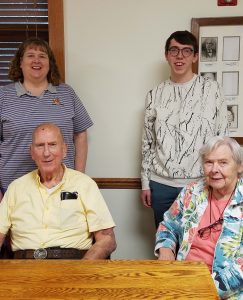 Coby attends Midlakes, where he will enter 12th grade this fall. Coby is an active participant in both his school and larger community. He enjoys planning events and volunteering, and especially enjoys helping with the Sauerkraut Festival in his hometown of Clifton Springs. Coby hopes that his role as Mr. Payne's Apprentice will help him grow his management skills and learn how to run larger festivals.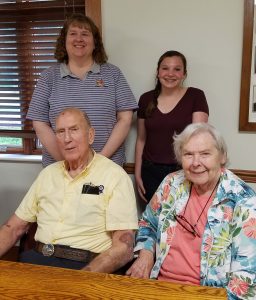 Avah attends Marcus Whitman and has just completed 10th grade. Avah is a hard worker with a "can-do" attitude. The first year she attended the fair, she had just a few entries, but over the years, Avah has challenged herself to learn and grow. She now cares for rabbits, turkeys, sheep, and recently earned enough money to purchase her first cow. Avah is active in the FFA and 4-H Club. She has attended trainings at several area colleges and participated in the 2018 New York State Fair. Avah hopes that her role as Mr. Payne's Assistant will help her learn to run a fair from start to finish.
Congratulations Coby & Avah!
The New York State Association of Agricultural Fairs and New York State Showpeople's Association 2019 Scholarship
Thank you to all those who submitted applications! The Ontario County Fair is proud to have so many active youth members in our community. This year OCF had THREE applications selected by our district, which will now move to the State Association for consideration.
Carriage Barn Event Center Progress
Celebrating 176 years:
In 2018 the Ontario County Fair Board was proud to be able to celebrate our 176th Anniversary. I believe it is a testament to the perseverance of all the members involved throughout our past. I think it's great that what was the main objective of the fair in its beginnings is still a large part of what we do now: To provide a venue where people can exhibit agricultural products of all types and educate the public and foster the development of our youth-after all our motto is "Cultivating the Next Generation".
– Casey Kunes, President
Mission Statement:
Our mission is to provide a leading venue for showcasing Ontario County Agriculture, heritage and businesses that a "#1 agricultural county to live in" has to offer.  Ontario County Fair will cultivate the next generation by providing programs that promote positive youth development and community education. Foster and grow our connection with Ontario County products along with offering wholesome family entertainment.