Wednesday evening's stock car races have been cancelled due to weather.
Taste of the Finger Lakes

will go on

under the tent at Wolcott Park! Join us for local food and wine tasting, with music by Nate Michaels, for just $10 from 6-8PM. 
Celebrating 175 years:
The Ontario County Fair Board is proud to be able to celebrate our 175th Anniversary. I believe it is a testament to the perseverance of all the members involved throughout our past. I think it's great that what was the main objective of the fair in its beginnings is still a large part of what we do now: To provide a venue where people can exhibit agricultural products of all types and educate the public and foster the development of our youth-after all our motto is "Cultivating the Next Generation".
– Casey Kunes, President
2018 Ontario County Fair Queen: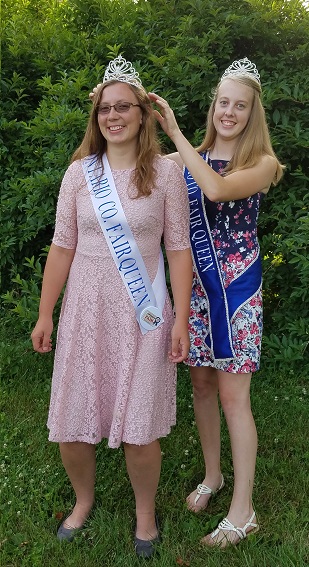 Miss. Jaimee Frederick is a lifelong Ontario County resident. She grew up on her family's dairy farm in Clifton Springs and is now a student at Cornell University studying animal science. When asked about her favorite memory at the Ontario County Fair, Jaimee said "It is hard to pick just one… When I brought three dairy heifers to fair last year for the first time and for Holstein junior champion at the 4-H show, all three were pulled out to compete for it. It was very exciting to see the work I put into them to try getting them ready was paying off."
This is not the only time Jaimee's hard work has paid off. She is the recipient of a multitude of awards, including the NYS Association of Agricultural Fairs Scholarship. She is an active member of her community and looks forward to hosting sunflower hayrides at the family farm each year. Jaimee is passionate about finding new ways for farmers to make and sell their own products successfully and hopes to use her roll as Ontario County Fair Queen to promote this cause. Jaimee is a true example of our mission and that is why we are so proud to present the 2018 Ontario County Fair Queen, Jaimee Frederick.
Mission Statement:
Our mission is to provide a leading venue for showcasing Ontario County Agriculture, heritage and businesses that a "#1 agricultural county to live in" has to offer.  Ontario County Fair will cultivate the next generation by providing programs that promote positive youth development and community education. Foster and grow our connection with Ontario County products along with offering wholesome family entertainment.